Wilshire Works Solutions - Who Are We?
The Wilshire Works Solutions story began a few years after the Toronto SARS crisis in 2004. Over a coffee my sister Erin, who was employed as a housekeeper in a Toronto hospital, expressed her frustration that she and her cleaning colleagues were expected to sanitize pull strings, Kling™ bandage pulls and nylon pull cords attached to over bed lights and nurse call pull stations in the patient rooms and wards. She knew this was an impossible task, but her supervisors didn't seem to care. Even more exasperating, the cleaning staff were not issued bandage scissors that would allow staff to cut off soiled pulls so that "fresh" Kling™ could be attached onto fixtures. This remedial action would, if allowed, be at least an attempt to provide patients with a fresh pull on their fixtures.
While I empathized with my sister's dilemma I didn't put much thought to it until I visited a friend of mine recovering in my local hospital. There it was, next to my friend, a disgustingly soiled length of Kling™ tied between the over bed light fixture and the bed safety rail. Post SARS, how could such unsanitary and uncleanable pull cords be tolerated in a modern healthcare facility? Over the following few weeks I had the opportunity to visit two other hospitals and a long term care facility. They all suffered with unhygienic pull strings and cords! Soon after I learned a new word; nosocomial (an infection that is acquired in a hospital or other health care facility). With my engineering background and some embers of entrepreneurship, I concluded that if uncleanable pull strings and pull cords were the status quo in most healthcare facilities, I might be onto a significant business opportunity. I needed to design an cleanable retrofit pull that was easy to attach onto many types of over bed light and nurse call fixtures.
Googling the problem did not reveal any existing commercial solutions worth their salt. I called over a few friends for a brainstorming session around the kitchen table. Sanipull evolved into the initial design of a universally attachable ribbon profile pull system that would be easy to grab and easy to clean. Between 2005 and 2012 the Sanipull system underwent a significant evolution with many design improvements.
Wilshire Works Solutions develops practical devices based on healthcare workplace needs. We take great pride in our innovative engineering and our keen attention to customer service. We pay respectful attention to ideas shared by frontline healthcare staff. To protect their good ideas, royalty-based remuneration is offered.

We are a Canadian healthcare manufacturing and distribution company focused on providing high quality, innovative solutions that benefit hospitals and long term care facilities worldwide.

Our product development team is always ready for new design challenges with commercial potential. Please contact us if you have an unmet need.

We are a commercial member in good standing with the following healthcare related associations:
IPAC - Infection Control & Prevention Canada
OANHSS - Ontario Association of Non-Profit Homes and Services for Seniors
CHES - Canadian Healthcare Engineering Society
ASHE - American Society for Healthcare Engineering
Wilshire Works Inc. is a Dun and Bradstreet registered company.

Wilshire Works Solutions is pleased to have working with us an enthusiastic assembly team from South Muskoka Community Living, Bracebridge and Gravenhurst branches, an industrious regional service organization providing life skills and meaningful employment opportunities to developmentally challenged individuals.
Lisa, a Supervisor from Community Living shared with us the following comment;
"In regards to the benefits this contract has had on the individuals we support, there is a great amount of fine motor activity involved with this job. We have a number of people willing to do the best they can with some or all of the assembly steps. We expect to see some improvement over time in regards to fine motor skills, and eye/hand coordination... but right now- the benefits we see are different.
We have a few people who before this contract came, would not stay in their room for a long period of time. Now, they enjoy the work so much, that we have to ask them to come out for their breaks! This contract has given them a job that not only puts a bit of money in their pockets, but gives them a reason to come to work in the morning. They feel like their day is more meaningful now.
We have a huge variety of skill levels here, and everyone interested in this job, has found at least one step that they can do, and do it well. What may look like a basic assembly to us, takes some of our clientele all day to do... but they do it. The success they feel seeing their accomplishments at the end of the day is shown through the smiles on their faces. Thank you for continuing to allow us to work on contract opportunities with Wilshire Works, it means the world to us!"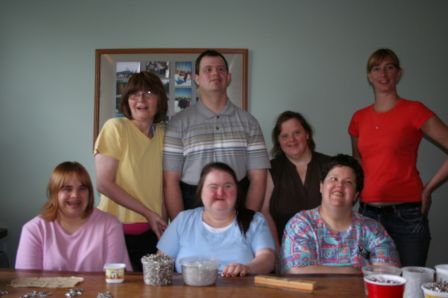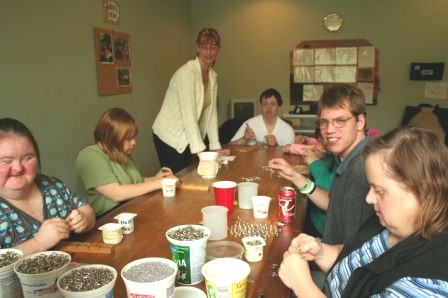 Community Living Crew
All employees of Wilshire Works Solutions are paid a fair living wage commensurate with their talents, education, experience, skill sets and employment tenure.

Our employees are mindful of the impact manufacturing processes can have on the environment and we do our part in protecting it, by minimizing waste, recycling, and sourcing materials and supplies that are environmentally friendly. As much as possible we purchase from regional suppliers to minimize the need for long distant transport of our process materials.
We follow the Reuse, Reduce and Recycle.

Wilshire Works Solutions, as a member of our global business community, is committed to supporting five incredible charities involved in protecting the environment, nurturing sustainable development or supporting medical efforts in third world countries. 10% of our yearly net profits are distributed to the following charitable organizations:

Free the Children
The Stephen Lewis Foundation
Medecins Sans Frontieres (Doctors Without Borders)
Plan Canada (Because I am a Girl!)
Ecojustice